Do you wonder how to write good copy for your marketing material?
Writing copy can be the most painful task of all, if you don't understand how to go about writing copy that persuades. The best copywriters in the world, started out just like you. They struggled to get powerful copy until they found a system. When you have a system, writing becomes less of a chore.
Have you ever run into these issues before:
1) Do headlines drive you crazy? Have you had trouble integrating headlines with body copy?
2) Have you wondered what the crucial elements comprise of?
3) What should you keep? What should you drop?
4) What ground work do you need to do before you write a single word of copy?
5) How do you know you're not turning people off with what you say?
6) Underselling or overselling can be a problem. How do you know what's just right?
Presenting John Forde, copywriter extraordinaire…
John is well regarded worldwide, for his ability to weave words and hold you spell-bound. And in this interview, you will understand the structure, dealing with a blank screen and the big no-no's in copywriting.
In an hour long interview, John (the nice guy that he is) gives you straightforward, honest interviews to some pretty hard questions. And though, officially this interview is about 60 minutes long…in reality, you get a whole lot more. (I'm pretty sure it's over 70 minutes or more)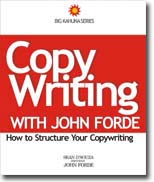 So what will you learn in this interview?
– How to construct headlines.
– How to make the transition from headlines to body copy. What gets a reader to go down a slippery slope?
– The system that enables connections between paragraphs?
– The crucial elements that are on the must-have list for body copy.
– Why bother with testimonials in a world where testimonials ring hollow.
– The critical ground work required before you write any copy.
– How do you do ground work for your copy?
– The importance of metaphors and stories? And what stories to avoid.
– The difference between hard sell and soft sell?
– How to take a customer to the next step. The secret of askign for the sale.
– Why bullets are important and why your copy should never go out without bullets.
– The visual elements of copy How to prevent long masses of copy from being hard on the eyes.
– The three biggest mistakes in copywriting.
– Why certain headlines don't work. The mistakes that prevent headlines from working.
– The hype meter. What causes a customer not to buy?
– The importance of the state of mind before writing.
– How to plan the structure of copy before you write anything at all.
– How to stay focused when writing.
– How should a business owner who doesn't usually write go about writing copy?
– How to keep your perspective fresh.