In your small business, how can you get reliable answers to your complex marketing problems?
(And how on earth do you find answers to these questions at 3:26 in the morning?)
---
On most days, a small business owner has questions.
These questions may involve something to do with marketing, or technology, or how to roll out a project. It may be about how to launch an offline company, or how to promote an online product.
And the natural response to such a situation is to try and find the answers via the Internet. But often the answers online are unpredictable and contradictory.
What's worse is that the source of the information can't always be trusted. You're never sure what's being revealed and what's being 'conveniently forgotten.' Plus when you do fix things in your marketing strategy, website etc., there's often no other trusted source you can turn to, to ask for an opinion.
It's a bit like standing outside the cave
It's cold, it's raining buckets. And the last bolt of lightning was uncomfortably close for you to jump. You look inside the cave and see a nice warm fire, a party going on and lots of soothing hot food. But outside the cave you're on your own.
And when you're on your own you struggle.
You struggle because there's no one to turn to. If you get stuck, you've got to work things out yourself. You get more frustrated and often spend hours going around in circles.
And within 5000bc, you'll find the warmth of the Cave. (Yes, there is really a forum called the Cave within 5000bc, where we all gather).
In the Cave, you'll find the warm comfort of other Cavers who are searching for reliable information, just like you. You'll find resources and ideas that will help you move ahead, and progress rapidly. Instead of standing out in the cold rain, you'll experience the satisfaction of sitting around a warm fireplace, warming your toes and getting the answers you seek in a safe environment.
So what's inside 5000bc that makes it so warm?
1) People with kind eyes and steely determination.
2) Information that's specific to your current and future needs.
3) Fun, fun and a source of great inspiration.
4) First preference to events and courses

Reason 1: People with kind eyes and steely determination
In Africa there's a saying that goes like this: "If you want travel quickly, go alone. If you want to travel far, go with a group." 5000bc is about going far and hence we have to have a solid, united group. To get to this ever-changing destination, the group must have an atmosphere of safety and caring. But the biggest factor that drives this group is that they want to 'get things done'. This isn't a group that sits around whingeing and moaning. It's a group that knows that to move ahead, you have to be action-oriented.
But how do the members interact?
Since we're on the Internet, the only real way to interact effectively is through a forum (in 5000bc, it's called the 'Cave'). You're invited into the Cave, to sit around the fireplace, away from the cold winds outside. And it's in this safe, private place that you can work with other members. Yet forums can be pretty scary places. It's not uncommon to run into nasty, childish—even vindictive behaviour on forums. In 5000bc, we work towards the exact opposite. And this is achieved by attracting the right kind of people.
So which are the 'right kind of people?'
For one, it's people with the right attitude. But there are other devices in place too. We understand that in order to trust someone we have to know who they are, what they do and where they come from. So in 5000bc, the forum has actual photos of the members. No avatars, no animal or superhero pictures are allowed. We need to relate to people one on one.
The second factor is that despite being around since the year 2003, the membership of 5000bc is deliberately kept small and intimate. Based on our member's advice, we accept few members every month and grow slowly, because we need to get to know each other and work with each other as a group. You'll find people from countries all over the world. Some countries represented are Hungary, Netherlands, USA, Canada, France, India, New Zealand, Japan, Malaysia, UK, Australia, Italy, Germany…um…you can say it's a very diverse place.
But it's people with the right attitude who are determined to make progress and make their business better.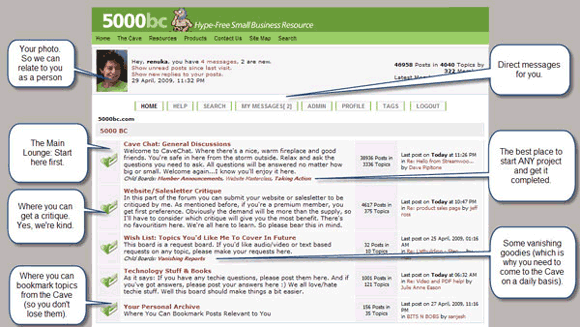 This is the Cave: The Cave is the main hub of activity on 5000bc. It's where you can ask dozens of questions and get relevant answers (often within hours, or even minutes of posting). And because there's such a diversity of members, you get various perspectives, links to resources, and angles that you may have not considered whencheck asking your question.

And the members of 5000bc are genuinely helpful
They are the kind that go out of their way to make people comfortable. They go out of their way to work hard and get results. If you're sick and tired of places where the only agenda is more self-promotion, then you'll heave a sigh of relief once you get into 5000bc.
And that takes us to Reason No.2
Reason 2: Information that's specific to your current and future needs.
Let's face it. We're drowning in information. And yet we need more information to keep on top of things. Now any membership site will give you a ton of information. What's different about 5000bc is that the information is suited to you—and your project.
So how do we make this specifically apply to you?
As you'd expect, there's a ton of information in 5000bc. There are specific interviews with transcripts (see below), hundreds of articles, the highly coveted 'Vanishing Reports' (more below) and a massive archive of over 100,000 posts on the forum. But hey, it would be impossible to even cover a fraction of this information.
So the way it works is like this
You ask a question. And it gets answered. It gets answered by me (I'm there twenty five times a day—except when I'm on vacation) and others who can give their advice. And you can ask as many as 5000 questions a month—if you choose. That's a whopping 170 questions a day.
Not that you'll need to ask it, but that's how happy we are with your questions. And when you ask the question, the answer is quite surprising.
Unlike a search engine that will just pop back an answer, the answers you get in 5000bc are specific. You will be not only be given an opinion, but will also be directed to detailed information within the Cave itself. For example, if you wanted to find out how to create signature stories (like the 'seven red bags' story) you'll have a wealth of information. And this is the most important fact of all. If the information doesn't exist, we'll create it. And often the answer may be as many as four-five articles. Sometimes it can be a whole report—created just based on a single question.
Unlike other forums where the forum owner is nowhere to be seen, I'm there from 4am (NZ Time) answering questions through the year (except when I take my vacations—and the vacation dates are announced well in advance). On most days you'll find me there at 5am, 6am, 11am, 12pm (People ask me if I ever sleep. The answer is yes, but I am around in the Cave a lot). Each question is answered in great detail. And amazing as it may sound, I may even write a series of articles purely based on your questions. Of course if you need proof, it's plain to see.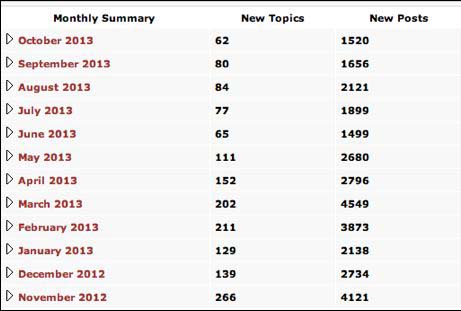 Unlike other forums that are dead most of the time, you can clearly see the amazing activity on the 5000bc forum. The forum allows you to collaborate, to network, to get your questions answered, and it's just a great place to hang out. The rule of the forum is simple: Be kind, be helpful or begone. We love diversity of opinion, but there's no name-calling or stupid behaviour.
And just in case, you don't like using a forum, you can use the 'Ask Sean' feature, that's like a hot button right to my inbox.
And this is because we want to advance as a group
We know that the smarter our group gets, the faster we'll move ahead. And so it's our common interest to help each other, critique each other and nudge each other to move ahead. After being slightly reluctant for a while, you'll find that that Cave, the Taking Action forum and other forums are just what you need to really give yourself a 'swift kick' to move ahead.
So if you ask just a few questions or 4779 questions, your question will be promptly answered in great detail and with great courtesy (There's no such thing as a 'too big' question or 'too silly' question).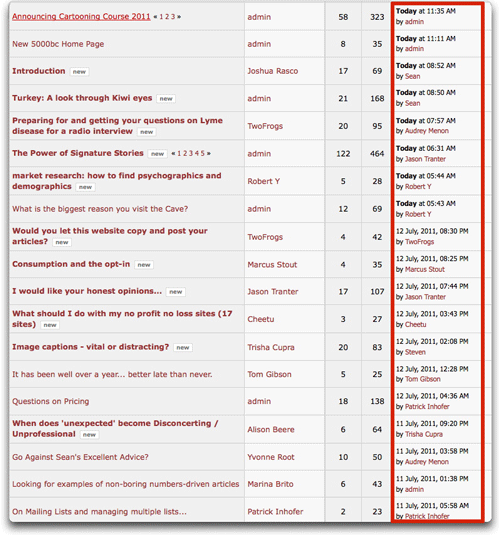 There's a lot of activity in the Cave. If you look closely you can see that all of this activity on this page is just the result of 2 days activity. Yes, the forum is busy and it's busy with a variety of topics. It's tough work just keeping this graphic updated, because there's just such a high level of activity.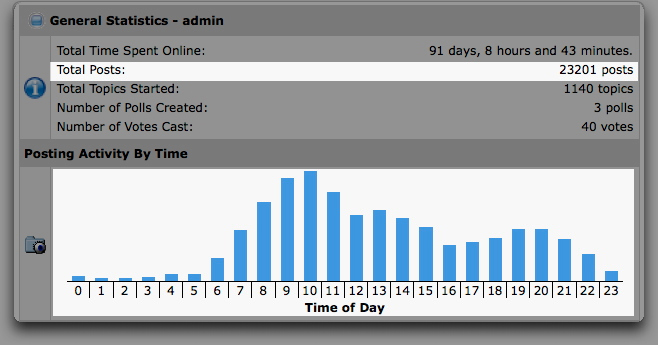 That's my activity. At an average of 327 posts per month (and that's including the months when I take a break. And yes, I take breaks. It's why I started up the business. But if you look at the activity in the forum, you'll be hard pressed to figure out when I'm gone, because everyone does rally around throughout the year).
Which takes us to Reason 3.
Reason 3: Fun, fun and a source of great inspiration.
We get into business so that we can have more control over our lives. Then our business drives us nuts. We need a place to have fun, to unwind. We need a place where we can relax and talk about things that scare us, bug us, or even share a joke or two. And yes we need inspiration. In 5000bc, the focus is on getting things done. And when we see how others, just like us, achieve their goals we're driven to do the same. The Internet can be a scary place with all that crappy "I just made $1 gazillion dollars and got 459,346 people to my website" rubbish. 5000bc shows you what's real and achievable and helps you get there.
And of course you get inspiration from the way we (that's my wife Renuka and I) run things. How we have taken 3-month vacations since the year 2004. And how we've grown the business systematically and ethically. And without any hoopla. And you'll get a template for what can be achieved with a ton of hard work and a ton of fun.
And finally, Reason 4
Reason 4: First preference to events and courses
This may sound like marketing hype, but the Psychotactics courses and workshops are extremely highly prized. There was a time when most of our courses (e.g. The Article Writing Course) would take about 4 weeks or more to fill up. Those were the old days. Most of the courses now fill up in under 24 hours. Some courses fill up in under an hour. It sounds like madness, and it is. But the reason why these courses fill up so very quickly is because of the dedicated training that goes into it.
As a 5000bc member you get first preference to these courses and workshops. Some are free, some are paid. But there's always a massive rush to the door and that's why it pays to be a 5000bc member. This is also why you almost never see the huge 'launch formula' that you see with most 'gurus'. There's nothing to launch here. We all understand what needs to be done and we get down to it.
And of course you get goodies that others don't see. Courses that others don't hear of at all. It all happens in 5000bc. And it happens all the time.
---
"The obstacle preventing me from buying 5000bc was the uncertainty of knowing if it would have really been worth it."
"I remember I was checking out the free stuff on 5000bc after reading the Brain Audit. I was having some problems with the videos on the site.
I sent Sean an email about it. I was very impressed with his quick and amiable response. The video issue was fixed shortly after wards. And I was impressed with the content.
This coupled with Sean's response made me feel very comfortable. And that seemed to be the tipping point for me. 5000bc has lot of great content. Content that is fun and helpful. Not that dry and boring stuff you find most places.
The Cave is really interesting too. I was surprised at how active Sean was in the forum. It is great. And really does feel like a safe place. With lots of helpful people.
The specific feature I like best is the access to Sean.
Also the other benefits are the: Special Reports, The Rips and the great community.
I would definitely recommend 5000bc because if you enjoyed the Brain Audit it's the next step to working through the concepts. It's a big help to understanding and applying things to your business.
I'd just like to add that I feel very good about the decision to join. I've learned a lot. And continue to do so everyday."

David Charest
New York, USA
Member since 2008
---
Some of the information you get in 5000bc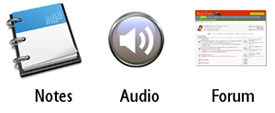 Within 5000bc you get a whole variety of media that helps you get answers quickly. And if it doesn't exist, we'll create it for you!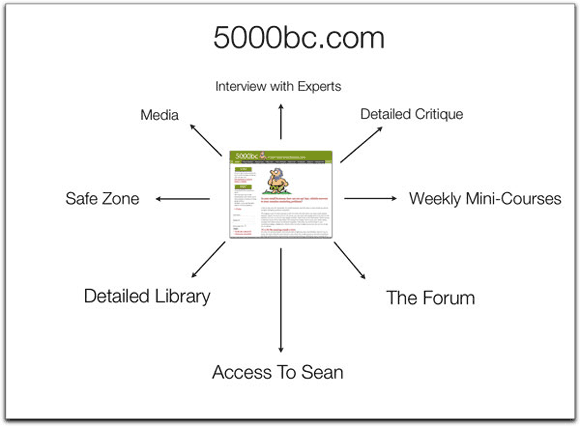 Some of the main categories in 5000bc are:
* Speaking Engagements: How To Sell and Gain Clients
* Website Issues: Specifics of What Works and Why
* Copywriting: How to Persuade Clients
* E-Zine Marketing: Tips, Tricks and Things That Work
* Technology Challenge: Emerging Technology & What to Do
* Graphic Design: Yeah, we know it drives you up the wall!
* Publicity and other promotional methods
* Social Media: Blogging, Twitter, Facebook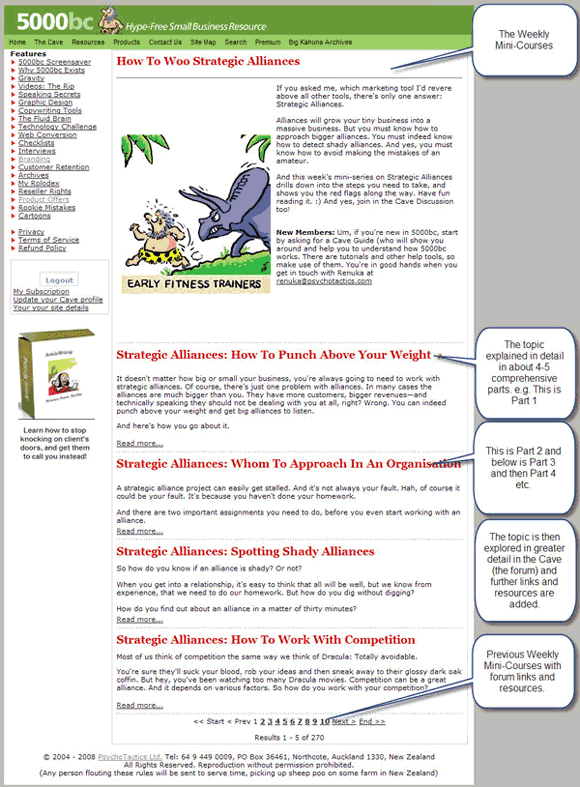 And that's just the information part of things. There's also a helpful, kind community within 5000bc.
---
"I was worried that this would be yet another expense where I didn't end up using what I had bought."
"You guys are masters of making sure that we consume (what we've bought)! And so, I've learned a ton since I joined!
I love The Cave. I honestly haven't made the time to try out anything else or even look into anything other than the general discussion board! The other things I really like: Direct access and insights from Sean, networking with other like-minded small business owners, the positive and encouraging vibe.
If you ask me: Would I recommend 5000bc I'd say: Of course! Because I've learned a lot!
One more thing I'd like to add. Thanks for being so dedicated to us. :)"


Marina Brito
Fairfax, Virginia, USA
---
"If you suspect that your business could be bringing in a lot more revenue but you don't have a clue how to make that happen without hype or hassle, 5000bc is a must-have resource."
"I honestly didn't see what 5000bc could offer me that I couldn't get from Sean's books. Besides, how could a bunch of people – most of whom are not business experts – help me build my business?"
I joined anyway because the price was right and I wanted the information that came with the premium membership.
The information and support I received from Sean and my fellow "cavers" about a single Web page was directly responsible for selling $10,000 worth of books in less than two weeks.
Unlike many Web communities, 5000bc members are active and to the point. Sean keeps adding content that drills down to specific problems in business and then shows you how to solve them.
If you suspect that your business could be bringing in a lot more revenue but you don't have a clue how to make that happen without hype or hassle, 5000bc is a must-have resource.
Try it. You won't regret it. "

Molly Gordon, Master Certified Coach
Shaboom Inc, USA
---
Do you really need to become a member of another site?
No you don't. The fact is that the Internet provides more than enough information already. But it's un-verified information. To find information that's useful to you, requires a lot of work. And despite your extensive search, you may NOT find the answer to your specific question. In 5000bc, your membership gets you answers to your specific questions (and often a whole article written around a question)
When you join 5000bc you get membership into an exclusive club of real people just like you, who started with the basic understanding of the Brain Audit, and then like you, will sharpen their skills in using the Brain Audit. This helps us all to increase our profits from sales letters, speaking engagements, web sites, courses they sell, creating workshops. The list is endless. And the advice is sound and based on real experiences, instead of mere third-party blah blah!
---
"This is without a doubt the best value in a marketing subscription that I've ever seen. Plus, it's affordable even if you are just starting out."
"I had absolutely no hesitation. 5000bc was a total no-brainer. For $209 per year(old price), I was sure I'd get plenty of value.
I found that Sean makes himself very available via the forum. Every question is answered in depth. The monthly premium bonuses are well worth the price of the subscription. Sean answering questions is worth 10x the price…and there are lots of other very sharp people asking and answering questions…all keeping Sean on his toes.
Nothing is held back, you get a real inside view of Sean's business model. I actually understand how his business works and can apply many of the same concepts to my situation.
If you hear a little snippet of an idea that Sean mentions in passing, you just ask about it and get the concept explained in depth. Sean does not stop until you "get" it."


Richard Mouser
jumpstartpublications.com
Houston, Texas, USA
---
The Premium Goodies…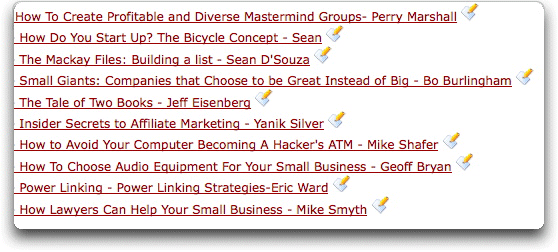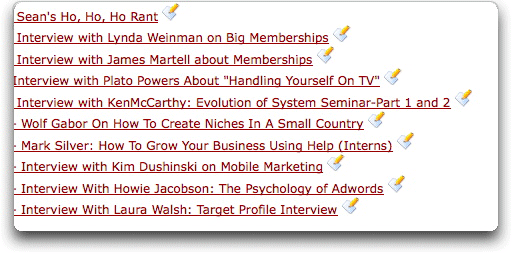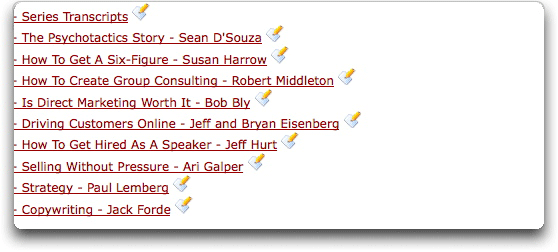 Not just your average guru in the interviews.

We detest the 'icky-guru' characters for the monthly interviews.
Instead we find experts, CEOs, and people who really know their stuff. People like Jack Forde (copywriting), Jack Trout (author of 'Positioning), Gina Bianchini (CEO of Ning.com), Richard McManus (Top 10 Blogger on the Planet). Take a good long look at the list. Not only are the interviews with 'real heroes', but also each interview is extremely detailed.
Every interview has a clear agenda. Every interview has three core topics that are covered. And every interview is recorded in audio for your mp3 player and also transcribed. There's no blah-blah in these interviews. Every one of them is like sitting at a live seminar presentation. You'd pay thousands of dollars to hear these people in a room. And even more to just get to the event. Well, it's all there in 5000bc" but only if you hurry. We routinely remove earlier interviews and then they're only available for a price. As of now, all these interviews you see are part of your Premium Package.
And the Vanishing Reports:
They're called Vanishing reports because they vanish. And I know it sounds weird showing you something that you can't have, but you need to see what you've missed, so that you know what to expect in the future. Here are just some of the reports that we've had in the past and what you can expect to see in the future.
Some of the topics covered in the Vanishing Reports include: Blogging, Video, Visuals and Conversion, Domain Naming Techniques, Viral Campaigns, Headline Techniques and other such goodies. The sooner you get in, the more you have access to the reports that will follow (most of these reports have already vanished, but you'll see some good topics in the future).

---
"Usually I don't find membership sites valuable. The forums are filled with people who can't really help me, and the founders are no where to be seen, so I don't get any help."
Sometimes the content will be good, but I'm at a stage now where I don't necessarily need more content, and if I do, I need more specific training courses/programs.
What attracted me to 5000bc—It came down to one thing: access to Sean. I still remember reading the one sentence on the sales page where Sean said "You can ask as many questions as you like, which would be equal to $60,000 in consulting" or something along those lines.
5000bc is different—For one, Sean actually talks to people and the members are having fun. In other forums/memberships often just the members are in there sharing and talking, and they might not know what they are talking about or what advice they're giving.

---
Does this membership cost $50 a month? Or $100? Or $200?
You would think a resource that gave you so much value would cost at least $200 a month, right? I mean you can literally pick up the phone and call a coach or consultant in your city and easily expect to pay $200 per hour. And if you ask several questions over the year, you could quite easily rack up several hundred if not thousands of dollars in advice fees. Of course those advice fees wouldn't include any reading material, videos, critiques etc. You'd have to pay a lot more for that.
So would it be almost unreal to learn that 5000bc costs just a little over $250 a year?
It's so unreal that most people think there must be a catch. How can you get so much for so little? ? How come you get access to all the article archives? How can it be possible that you can ask hundreds of questions and get answers (some members have asked over 300 questions each). There has got to be a catch.
And no there is no catch. You get everything just as it is described here on this page. And if you feel like contacting a current member, please get in touch with us, and we'll be happy to give you their details. We have members from dozens of countries and dozens of professions, so it's more than likely that you'll find someone whose business is similar to yours.
How do I join 5000bc?
To join 5000bc you have to get on the waiting list. Once you are on the waiting list, it will take between 2-3 weeks, depending on the number of people in the queue before you. We have a waiting list as we like to make sure that all new members are comfortable. And you can believe it's well worth the wait!
What happens next?
Once you join the waiting list, you will get a series of emails reminding you to join up. So your next step will be to simply get on the waiting list today, so that you hold your place in the queue.
5000bc Membership: Yes, I am ready to get on the waiting list. Where do I pay the $10 to be on the waiting list? (See details below)
5000bc Annual Membership
Regular Option
Premium Option
Hidden Articles
Checklists
Fluid Brain
Access to Tactics & Strategies
Bonuses
The Cave
Special Premium Bonuses
Vanishing Reports
Expert Interviews Series
Special Bonuses
Special offers on certain products
First preference for ALL courses and workshops
Special Price Per Year (US$)
$ 255
$ 259
How to Get on the Waiting List: 1) There is a joining fee of $10 to get on the list.2) As soon as there is an opening you will be emailed.

You can then join at the current price of $255 or $259.

Note: If you are not accepted, your $10 will be refunded.

Waiting List: Pay safely with any of the options below
To pay by PayPal (You

do not

need a Paypal account and can pay with ANY credit card)(US$ 10)
 
To pay by Credit Card (Master Card not accepted)(US$ 10)
Note: 5000bc Membership is a recurring membership. This means that your credit card will be automatically billed, when your membership comes up for renewal.However,

there's nothing to fear

, as the system allows you to cancel your membership at any time, (you can do this from your own computer) and your card will NOT be re-billed in the next cycle.
---
The Biggest Two Reasons Why You Should Join the Waiting List Right Away
1) The membership fees are at their lowest. You're getting the chance to subscribe now and keep this low fee for as long as you stay a member.
2) When you subscribe right now for the Premium membership, you also get the Big Kahuna Marketing Series in perpetuity, as long as your membership is valid.
---
Important:
If you have any questions that have been unanswered, please email me directly and let me know how I can help. I'd be interested in getting your feedback. The feedback that you give me is strictly confidential. Don't forget to include your telephone number and a time to call you.

Sean D'Souza