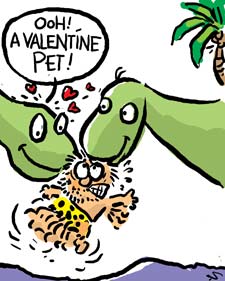 Loads of Free Articles That You'll Just Lurrrrrrvvvve!
---
1) Harness The Psychological Power Of 3:
Improve your communication and change your marketing strategy by tapping into the deeply embedded psyche of humans. [
Read More…
]
2) Can Powerpoint Presentations Rival TV Ads? Ever wonder why some PowerPoint presentations are head and shoulders above others? Why do some have amazing powers of persuasion while others simply bore you to death? Here's the secret to PowerPoint pizzazz. [Read More… ]
3) The Power Of Why:
WHY on earth would you ignore advice on one of the most powerful psychological triggers that make people buy? [
Read More…
]
4) Can You Convert Your Marketing Into A Religion?: Some brands of religion can breed fanatics. If it works for them, why not make it work for your product or service? [Read More… ]
5) Do You Know Who's Killing Your Email Marketing?: More interesting than a mystery novel, but deadly serious for your business. Is something lurking in the shadows you should know about? [Read More… ]
6) Like a Virgin — Is Your Marketing As Fresh As Madonna's?: Madonna Incorporated consistently reaps profits even after 18 years on the trot. Here's what you can learn from the chameleon of pop music. [Read More… ]
7) Is Nature A Marketing Guru?: Technology rules. Yeah, for about five minutes — then natural instincts take over. Are you stupid enough to fight Mamma Nature? [Read More…]

To view next 8 articles, get past the cow


8) How To Commit Brand Suicide: There are lots of ways companies kill their brand names. It's easy. We'll show you how. [Read More… ]
9) Why Santa's Marketing Works Better Than Yours: Santa Claus Inc. is well and profitable, right through recessions, depressions and just about any economic scenario. The reason why his marketing works better than yours is that he uses solid, dyed-in-the-wool psychology. You can too.
[Read More… ]
10) Never Trust A Silent Customer: If you want to learn how to keep your customers, you've first got to keep them noisy. Here's how you can make these complaining clients one of your biggest assets. [Read More…]
11) Why Twins Have The Same Surname (And Different First Names): Unlike parents, who know this instinctively, businesses often end up giving the same name to multiple (and widely differing) products without realizing the negative impact on the brand. [Read More… ]
12) Are You Operating Without An Audio Logo?: Surely not! Here's the key to getting people all excited about your product or service. You control the conversation with an audio logo. Go on, get it in your armoury! [Read More… ]
13) How To Get Repeat Visitors To Your Website: Ok, so you've got someone to visit your website once. What if you wanted them to visit again, and again, and again? Ooh, that's hard, isn't it? Not really. Find out how to attract them back without begging. [Read More… ]
14) Tired Of Silly Old Email Enquiries?: Say Hello To Autoresponders! If there's one thing that drives us all crazy, it's not having enough hours in the day. You need the hours to work out your marketing, your sales, your budget, follow up on invoices and god knows what else. [Read More… ]
15) So What If You Don't Have a Website?: Gasp! Choke! Gag! That's how people react when you tell them your business does not have a website. So do you really need one? This article attempts to show you how you can use the internet and websites to the maximum. [Read More… ]
To get the next 8 articles…make sure you don't run into that maniac cab driver!


16) Who Is Your Real Competition?: If you design kitchens, is another kitchen designer your competition? Most likely not and the sooner you can position yourself against your real competition the sooner you will start to see more business come through. [Read More… ]
17) Need To Create A Website That's Dynamite?: Websites are a waste of money and time. Well most of them are. Most people go online for just one reason– To Get Information. Yet, what do you see at most websites? [Read More… ]
18) Is Your Business Solution your biggest Problem?: Have you had current or potential customers die on you while you're speaking to them? You're giving them this outstanding description of your process and capability and its going bing, bong, kazoom over their heads. [Read More… ]
19) How Hard Working Is Your Business Card?: Who'd ever think of branding and positioning for a business card. You should, if you're expecting to maximise your impact. It's no use having a fancy looking card that does nothing for you. [Read More… ]
20) Is Your Marketing Missing The Cookie Factor?: Your marketing sure could do with this X factor. The psychology of humans is based partly on something for nothing. Find out how you can use this to your advantage! [Read More… ]
21) Stuck With A Zero Marketing Budget?: Don't have a planned budget to give your clients gifts? Welcome to the club! Here's a psychotactic that's so simple. You will wonder why you never thought of it before! [Read More… ]
22) Why Are Customers So Indecisive?: Do you know why your customer won't buy? You've given her the best price, possibly even the best options. Yet she fidgets. Maybe, maybe not, she ponders. Do you know why that happens? Find out here. [Read More… ]
23) When Do You Stop Marketing To Customers?: Are you afraid of alienating your customer with your marketing? Do you always feel like a stranger in their inbox? Do you know specifically when to keep marketing, and when to stop? Well, stop looking so puzzled because [Read More… ]
Whoever heard of FREE food? Well there are even more free articles for the taking. If you can see past the food laden plate, that is…


24) Mona Lisa Your Branding!: Have you mistakenly trained your branding to fall over and play dead? Do you know how to use psychology to create branding that lights up with the voltage of a thousand neon bulbs? And can you play Scrooge with your budget, yet get huge branding mileage? And if so, how? [Read More… ]
25) Why Problem Based Positioning Is A Psychological Magnet!: Are you struggling to create a memorable positioning statement or USP for your marketing? Do you want to stand out from your competition, but the uniqueness of your business seems to elude you? Here's a sneaky, vital secret that turns conventional marketing psychology on its head. [Read More… ]
26) How to Turn an Email Marketing Disaster Into Profit: Have you had an email fiasco where everything went totally bananas? Things you never meant to happen, happened. And you felt like hiding in some deep, dark cave, where no one could find you. Keep reading, because if this ever happens to you, you'll know what to do. [Read More… ]
To access even more Hidden Articles, Checklists and lots more information, make sure you get membership. Yeah, it's all good stuff. I kid you not!
And you'll find out for yourself anyway, when you get into 5000bc membership. To get yourself a membership, click here.